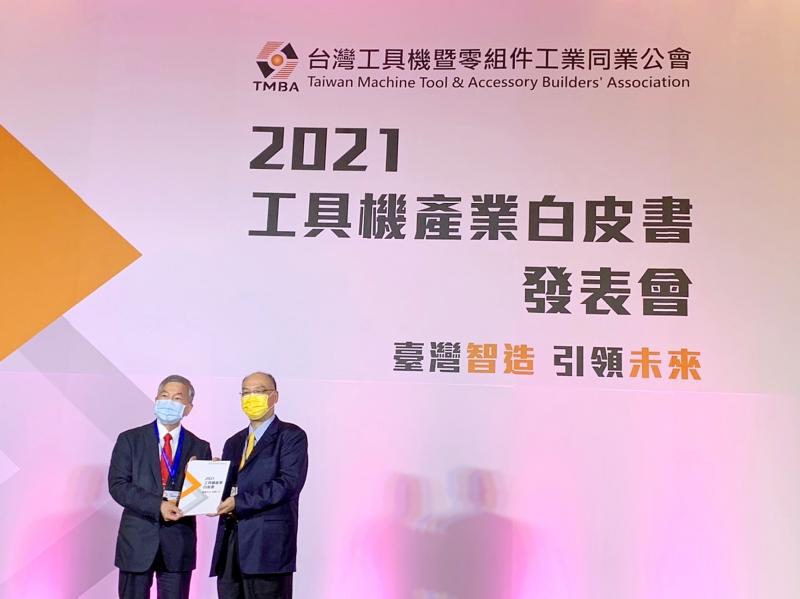 Machine Tool Manufacturers Consider Boost to CPTPP
LOOKING FOR OPPORTUNITIES:
Industry's strong recovery from COVID-19 crisis came despite Asian competitors having the advantage of duty-free trade, trade group leader said
By Angelica Oung / Journalist
Taiwan's machine tool exports expected to benefit from a "transformational boost" if Taiwan adheres to the Comprehensive and Progressive Agreement on Trans-Pacific Partnership (CPTPP), the Association of Machine Tool and Attachment Manufacturers said yesterday. from Taiwan.
Speaking on the release of the association's first white paper, Goodway Machine Corp (程 泰 機械) chairman Edward Yang (楊德華), founding chairman of the association, said the Taiwanese machinery industry -Tools is enjoying a year of robust controls, but also facing headwinds. .
"We have been faced with the unfortunate triple effect of high commodity prices, skyrocketing shipping rates and the strengthening of the new Taiwan dollar, but orders are increasing," Yang said.
Photo: Lin Jin-hua, Taipei Times
"It is imperative that Taiwan join the CPTPP," he said, adding that joining the bloc would save the country's exporters from onerous tariffs and give the industry a "transformational boost."
Many countries levy 4-5% tariffs on Taiwanese machine tools, Yang said.
Compared to their competitors in South Korea and Japan, Taiwanese manufacturers are suffering a "double whammy" from a highly valued currency and not being a member of the CPTPP, he said.
"We are excluded from [China-led] Comprehensive regional economic partnership, "Yang said. "The CPTPP is our chance to turn things around. "
Association president Habor Hsu (許文憲) said that despite negative factors, this year has been a return to form for the local machine tool industry.
"Our group is forecasting 30% annual growth in production value for this year, and it looks like meeting this target will not be a problem," Hsu said, adding that in August, total production of the industry had grown 25% year over year. -year.
OVERCOMING THE PANDEMIC
The association has predicted machine tool exports to reach $ 2.7 billion this year, up 25% year-on-year, and expects a further 30% increase in the year. next, which would bring the industry back to its pre-COVID-19 pandemic level. .
The association released its first white paper to prepare the industry for increased automation and high value-added products, Hsu said.
"The machine tool industry is the parent industry upon which all other industries are built, including semiconductors, green power, and consumer electronics," Hsu said.
Urging the government to focus more on the industry, Hsu said, "Instead of focusing on gross margin, we want to move towards smart production and automation, and develop a higher value-added industry. "
Comments will be moderated. Keep comments relevant to the article. Comments containing abusive and obscene language, personal attacks of any kind or promotion will be removed and the user banned. The final decision will be at the discretion of the Taipei Times.