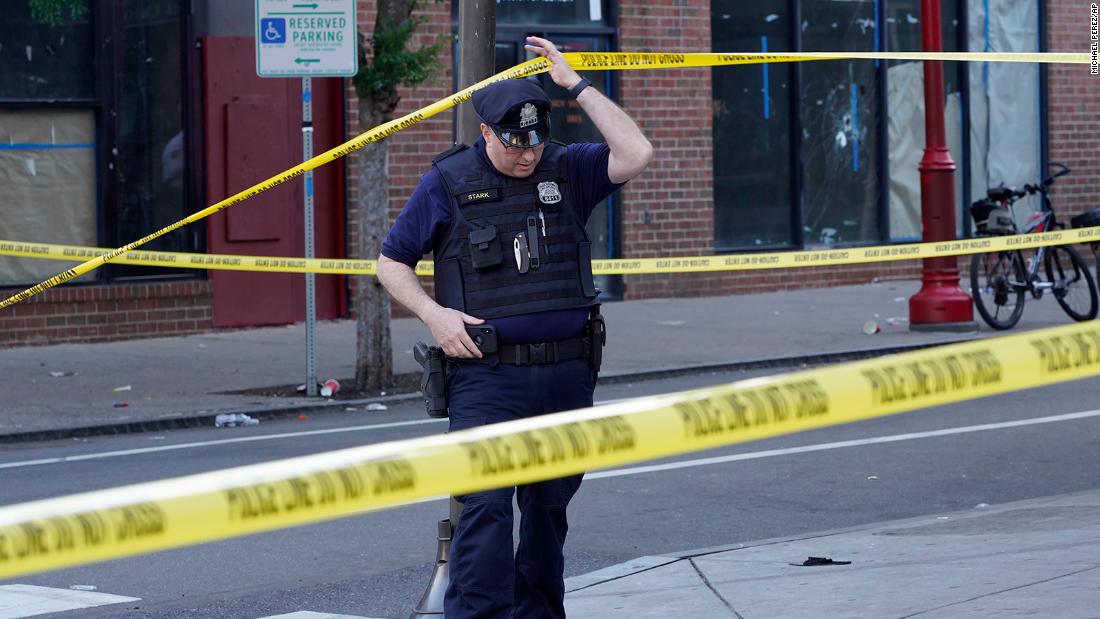 Opinion: The gun crisis should be talked about more
We mourn and decry this senseless violence. The carnage must stop.
It is time that the country's media and political leaders also pay close and constant attention to the daily reality behind these stories. We must not limit the conversation about gun violence to mass shootings and AR-15s.
On June 1, a 19-year-old man was shot at least three times in Center City, a part of Philadelphia where workers often go for happy hour.
On Saturday, a 19-year-old woman who was around 34 weeks pregnant was shot dead. Doctors managed to save the little boy, but his mother died.
All of this violence happened in a single week in a single US city – not to mention that Temple University is tightening security after more than 70 shots were fired within walking distance of its Philadelphia campus. At least five people have been shot dead in the Temple area in the past month, police say.
Living in a war zone every day
Too many neighborhoods in Philadelphia and other cities look like war zones. No place seems safe. People are murdered in social spaces. People are being shot near college campuses. Fathers, mothers, sons and daughters are killed.
People live in daily dread when they leave their homes to walk or drive around their neighborhood.
The cultural narrative around gun violence in the inner city is that it is usually gang-related. But the truth is that gun violence is an epidemic that goes far beyond such assumptions. For people living through this daily carnage, it's as if the focus on mass shootings has overshadowed their plight.
One of us, Pastor Carl Day, frequents the homes of parents who have lost their children to gun violence. And they often ask: When will people march for my child? When will my child be recognized? When will my child be on the national news?
The Day's organisation, Culture Changing Christians, hear daily from grieving mothers and family members of those injured by gun violence, pleading for help. Begging for something to be done. Pray for someone to pay attention. Pray for leaders to recognize that their loved one's life matters. Pleading for their trauma to be acknowledged and their healing supported. Pleading that these injustices don't fall on deaf ears.
When it comes to gun violence in urban areas, the black community too often feels abandoned and ignored. The conversation about gun violence legislation needs to center our communities in this debate.
Possible solutions
The same solutions that would help reduce mass shootings would also reduce the daily toll of other forms of gun violence across the country.
Here are things that could make a difference.
First, the media should seek ways to broaden the national debate on gun violence. A map showing the number of mass shootings in the United States is shocking. And yet, a map showing the number of shootings and deaths in 2022 so far would be even more shocking.
After a mass shooting, we see photos of missing loved ones. The national media could shine the spotlight on a different American city every weekend and do the same thing. Why not broadcast a crawl at the bottom of every TV screen naming every member of the community killed by gun violence the day before?
Second, every social movement claiming to oppose violence must come together in solidarity with those drowning in a daily tidal wave of gun violence. Whether your just cause is ending police abuse, keeping schools safe, stopping anti-Semitic violence, or stopping hatred against Asian Americans and Pacific Islanders, we must come together. It's time to unite these disparate movements, identify areas where we can agree, and find real solutions.
Third, we must change the culture of violence in urban America – and in the United States in general. For some, violence has become a kind of social currency. People beat others up just for uploading videos. All culture influencers need to step back from celebrating and promoting violence. We are at a real crisis point.
And finally, we need targeted political and legislative action.
We should accelerate programs that focus on those at the center of gun violence, namely black and brown people living in poverty. These include community-based violence response programs. These programs support those most at risk of being victims or perpetrators of violence. They employ local leaders who are adept at intervening and teaching non-violent ways to resolve conflict. And they understand that addressing gun violence often includes policies such as greening vacant land and providing affordable housing. Organizations such as the Community Justice Action Fund led this work at the national level. And in Philadelphia, bands like As I Plant This Seed, Community Unity and Culture Change Christians work every day within their communities to address the root causes of gun violence.
We also need to recognize that background checks are important. Congress needs to close the loopholes that allow the sale of unlicensed guns without background checks. We need to raise the age for buying a gun from 18 to 21. People should be required to take training and obtain a license to legally own a handgun. Preventing unwary people from getting guns will reduce the number of guns in communities where gun violence is most devastating.
There is no reason for this debate to pit gun owners against gun non-owners. This is a vital emergency that separates responsible gun owners and responsive lawmakers from people who just don't seem to care. We recognize that 4 in 10 American adults live in a household with a gun, according to a 2021 Pew Research Center survey. In 2018, there were nearly 400 million guns in private hands, according to a estimate from the Small Arms Survey, a nonpartisan group that monitors gun ownership. We need to find ways to get gun owners and non-gun owners equally committed to reducing this scourge.
People most at risk
We implore everyone to understand where black Americans are and what we have been through. These problems have existed for decades in our communities. When people cry out to make America great again, we implore them to understand that black communities have been suffering and being ignored amid the carnage for centuries – both imposed and self-inflicted.
We hope and pray that you will stand with us as we defend the lives of parents and children in our communities that have been devastated in every major city for years. Our strategy must include political, cultural, national and local responses to this crisis.
The answers are not simple, but it is also true that a perpetual state of inaction by elected officials and community leaders is unacceptable. In the conversation about gun violence, we need to focus on those most at risk, instead of leaving the vast majority of victims on the margins.