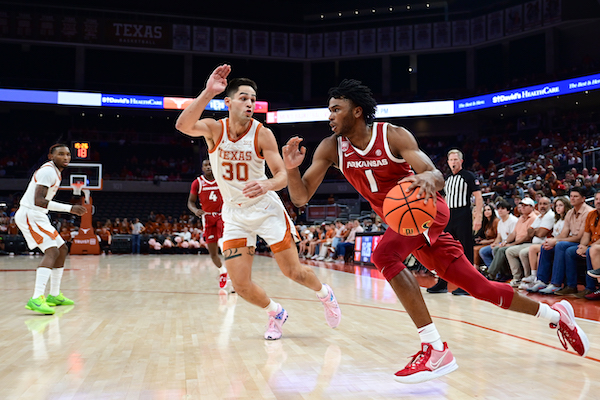 Razorbacks routed through Texas on display
AUSTIN, Texas — Texas led wire to wire in Saturday's highly anticipated preseason showdown against No. 10 Arkansas at the Moody Center.
The No.12 Longhorns, trailing 19 points from Arterio Morris, controlled the game in the first half and then retired after halftime in their 90-60 victory over the Razorbacks. Arkansas has never led the loss.
Until the last minute of the first half, the Longhorns' biggest advantage was seven points. But a 7-0 run capped by a left wing three-pointer from Texas guard Tyrese Hunter helped extend the lead to 40-30 at halftime. The Longhorns had 5 of 9 three-point games before the break.
Things then got worse for the Razorbacks as they opened the second half 2 of 12 from the floor. Meanwhile, Texas knocked down 10 of its first 12 looks in the second half.
After a layup by Arkansas freshman guard Nick Smith with 16:03 remaining, the Longhorns notched 20 straight points to extend their lead to 69-35. Texas made 3 three-pointers in that streak, including one to make it a 30-point game moments after the Razorbacks' Trevon Brazile was helped into the locker room.
Against Texas length and pressure, Arkansas struggled mightily with turnovers and on the defensive backboard. The Razorbacks committed 23 turnovers, including 12 in the first half, and the Longhorns turned the errors into 26 points.
Texas also grabbed 13 offensive rebounds. Six of the Longhorns' first nine rebounds came from their own misfires.
For the Razorbacks, freshman winger Jordan Walsh led with 14 points, including 12 in the second half, on 6 of 8 from the floor. Smith finished with 12 of 5 of 8 points from the floor in 28 minutes.
Smith was Arkansas' only three-point mark until 6:03 into the second half. Smith and Walsh had three of the Razorbacks' four shots from beyond the arc.
Transfer forward Makhi Mitchell added 8 points and 4 rebounds in 17 minutes off the bench, and freshman guard Joseph Pinion had 7 points on 2-of-5 shooting.
Texas placed five players in double figures. Timmy Allen, an All-Big 12 player a season ago, added 12 points and 4 assists, and Jabari Rice, a transfer from New Mexico State, had 11 points.
The Longhorns made 10 of 16 three-point attempts.
The Razorbacks are scheduled to open the regular season on Monday, Nov. 7 against North Dakota State at Bud Walton Arena. Tipoff is scheduled for 7 p.m. on SEC Network-Plus.