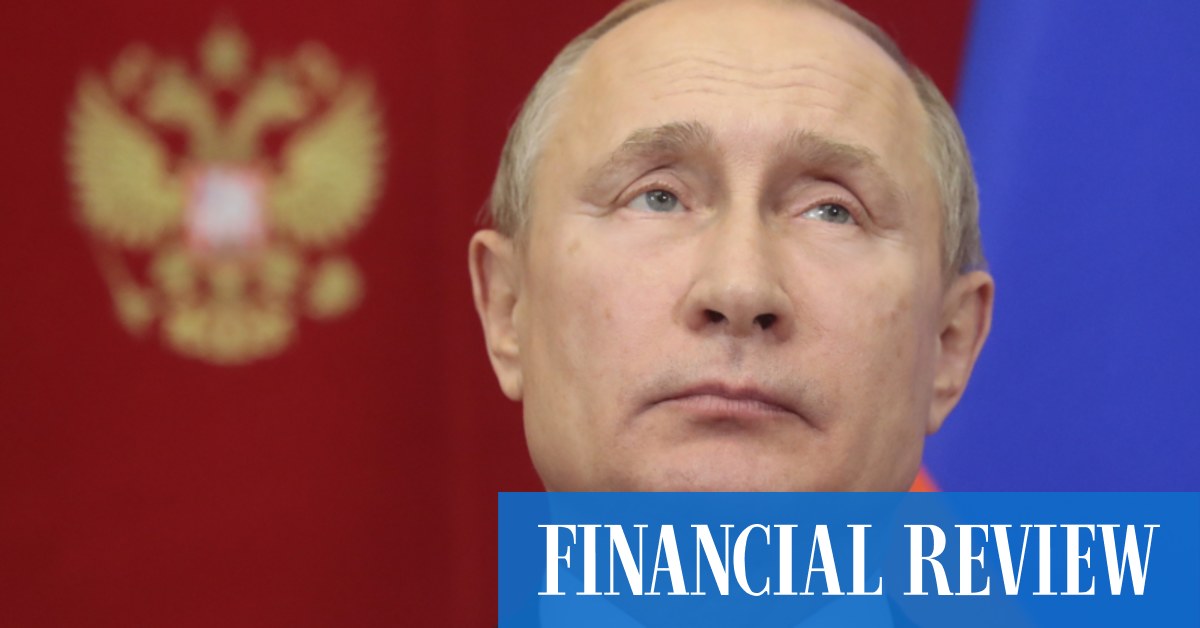 The staggering cost of Vladimir Putin's war in Ukraine
Roughly that's an impact of $2.25 trillion ($3 trillion), equivalent to at least the entire Australian economy as well as most of New Zealand.
Importantly, the Treasury figures do not include the likely impact on business and consumer confidence caused by the war or the likely cost of having to retool economies to decouple from cheap Russian oil and gas.
"The Russian invasion of Ukraine and the rapid international response have significantly affected the global economic outlook," officials wrote in the budget documents. "The invasion has caused substantial disruptions in global commodity markets and has the potential to significantly increase inflation and reduce global growth."
Supply chain risks
There is little danger, according to the International Monetary Fund, of systemic risk to global financial stability given Russia's low foreign financial exposures.
But as a major supplier of raw materials, Russia matters. It produces 18% of the world's gas and 12% of the world's oil supply. Together with Ukraine, they represent a quarter of world wheat exports.
"The invasion has increased the risk of supply disruptions, driving up prices for energy, agriculture and metals," the officials said.
"Global supply chains are also dependent on Russian exports of metals, particularly palladium, so a significant supply disruption could have flow effects for global manufacturing supply chains."
The economies hardest hit by the fallout are the energy-importing economies of Europe and North Asia, China and India, while many countries in the Middle East and North Africa are major food importers.
"These countries will experience a negative terms-of-trade shock due to the increase in commodity prices."
Central bank warning
Countries like Australia and Canada that export more commodities than they import will be "somewhat insulated" from the inflationary impact of rising energy prices and may even benefit from an improvement terms of trade through higher export prices.
"If the conflict has a bigger than expected impact on global energy supply, such as shutting off gas supplies to Europe, it would weigh more heavily on global growth and inflation."
Besides the war, the Treasury is warning of the possibility that faster inflation will force central banks to tighten monetary policy more aggressively.
"The tightening of financial conditions coupled with the normalization of monetary policy could also add to the already high levels of volatility in commodity and financial markets."
This could lead to pockets of stress in the financial and corporate sectors, particularly among emerging market economies, and slow global growth.
China's economy is expected to be "hampered" this year by ongoing pandemic challenges, which have forced authorities to shut down cities pursuing one of the world's last zero-COVID-19 strategies.
"China is likely to experience more frequent and severe COVID-19 outbreaks this year than in 2021, with the continuation of its aggressive suppression approach to virus management likely to lead to more frequent lockdowns and disruptions to the industrial production and normal consumption patterns."
The Chinese economy will grow by 4.75% in 2022, 5.25% next year and 5% in 2024.
The Treasury said the US economy – as the world's largest oil producer with huge reserves – should be partially insulated from rising global oil prices.
More positively, global growth will be boosted by "sound private sector fundamentals".
"At the end of 2021, many major advanced economies were still below their pre-pandemic output levels and are expected to experience above-trend growth in 2022 as they continue to recover."