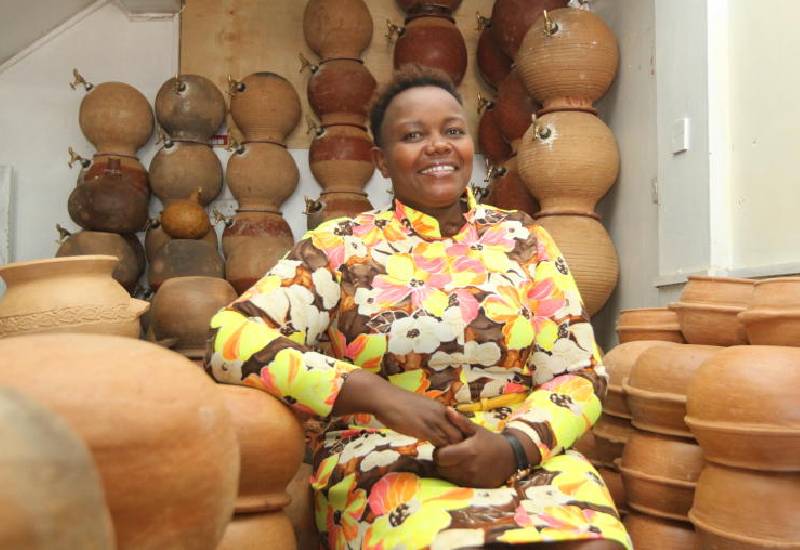 We lost 60% of our first stock Eve woman
Winfred Nyambura Ndung'u, 44, is the founder/business manager of The Clay Republic, a company that sells pure clay products to improve health and empower traditional potters.
She talks to us about the roots of her business, the gains and losses of running a business, and overcoming challenges to sustain it.
My journey
Growing up, we were prepared and asked to work extremely hard from an early age. I was brought up in what I would describe as a modest background. My parents worked in agriculture and transportation.
I am a Marketing graduate from Kenya Methodist University which I graduated in 2010. I am finalizing my MSc in Marketing in Kenyatta
University. Having worked with various companies including Buyline Industries Limited, Britam and Cytonn, I have over 20 years experience in sales, marketing and administration.
The idea
I reached a point where I felt like I couldn't follow the instructions anymore. I needed something stimulating. I thought of traditional clay products. Their use has been eroded by modern pottery.
Our ancestors lived so long. They have never used aluminum or consumed bottled water. They boiled everything in clay pots and they rarely got sick. The little things they did, in the little ways, made them live this long.
We started with three associates. Coincidentally, we were all raised by parents who used potties. When we got together the conversation was easy as we all understood the benefits of using clay pots for cooking and storing drinking water.
We had two things clear in mind as to why we had to deal with pure clay pots. The first was to make sure we brought healthy lifestyles into our homes.
The second was to empower traditional potters in the West, East and Central regions by reviving traditional pottery and linking their products to local and international markets.
In doing so, we encourage potters to recruit younger people to ensure that the skill does not die or be passed on to others the moment they stop modeling.
What happened next
Together with my partners, we decided to do some research to see if this was a viable business we could venture into. We ordered a pot of water and decorated it.
We then posted a picture of it on social media platforms and the feedback has been great. We all agreed that was what we wanted to do and we started.
We ordered our first batch of pots and by the time they arrived in Nairobi from Western 60% of them were broken. However, we did not give up.
We sold the remaining 40% to recover the initial investments. Based on this experience, we decided that we had to review our transport strategy for the products we would order.
Since then, our transportation has greatly improved and now 90% of our pots arrive at their destination without bumps.
Run a startup
It was a learning experience, both for me and my partner (there was one left, now there are two of us). Putting structures in place and making sure everything is running smoothly from production, sales, finance, customer relations, among others, was a huge responsibility for us, but we did it, thanks to Uzapoint , an application capable of doing most of this at the click of a button.
Some things won't move as fast as we would like. On the other hand, there are so many factors involved in production such as weather, labor, design, quality, etc. Pots take time to dry out and sometimes we have to wait over 3-5 weeks for our stock to be ready.
We encountered difficulties such as obtaining sufficient stock to satisfy the market. These are handmade products that take almost a month to produce.
We don't intend to change the natural production process, so it took us a while to find a steady flow. Right now, I'd say we're close to nailing it.
Financing the project is also another challenge. This is a capital-intensive business, as you need to place new orders long before you liquidate your available stock. But we have succeeded through savings and sometimes by borrowing small loans here and there from various banks.
Getting distributors hired to sell our products has been difficult as most fear the fragile nature of the items. We have a few who are engaged and pushing products very quickly. We are actively looking for distributors to cover the whole country. We are currently focusing on the Nairobi, Coast and North East regions.
where i am now
Balancing family and business has been a bit difficult. I find myself answering customer questions at night and sometimes I feel so guilty because the people I love the most are inches away but we're not spending quality time together.
Finding time for myself, to be myself, to feel myself, is difficult but over time, I learn to give myself a few minutes every day just for myself. We learn every day.
I would say that we are in the final stages of the struggles since we had taken this first year to learn as much as possible about the do's and don'ts of the trade. They say you only learn by experience.
We strive to delegate all operations to the people we have hired so that we can focus on the big picture. It's still ongoing. We hire directly from the university, those who don't have a lot of visibility but who have the right attitude.
My advice
Fail as many times, but be sure to learn something. Be aggressive and stick to the cause you believe in (know your product). In short, start. Just do it.